Blog Archives

There are two types of sunscreen: mineral and chemical. Chemical sunscreens absorb UV rays and convert them into heat before releasing them from the skin. These sunscreens penetrate the skin deeply to dissipate UV rays. Mineral sunscreens do not penetrate the skin but rather sit on top where they work to reflect UV rays away from the body. Both can be effective against sun damage.
Daily use of a chemical or mineral sunscreen with an SPF of 15 or higher has been shown to reduce the risk of developing skin cancer. Daily use of sunscreen can also help to reduce the risks of sun damage such as lines and wrinkles, dark spots, textural irregularities, and more.
Damage done to the skin by UV rays is cumulative. The more frequently you are exposed to direct UV rays, the higher your chances of developing a sun-related skin imperfection. But not all sunscreens are equally safe and effective. Selecting a high-quality, full-spectrum option is essential for optimal results.
We can help you choose the best sunscreen for your skin during your next visit.
Treating Sun Damaged Skin
Cosmetic imperfections brought about by UV exposure can be treated with a variety of non-surgical options. At our office, we can treat non-cancerous sun damage with:
Chemical Peel. Applied directly to the skin, peels work to deeply exfoliate, encouraging smoother, blemish-free skin
IPL Photofacial. IPL penetrates deep into the dermis to eliminate damaged and discolored skin cells
Laser Skin Resurfacing. Laser skin resurfacing removes the top layer of skin to expose healthier layers underneath. This service also stimulates collagen production, helping to address a range of age-related skin concerns
Age, environmental factors, lifestyle choices, and more can combine to impact the appearance of the skin. The treatments we offer for sun damage help to produce a smoother, more youthful, and more attractive appearance – often after just one treatment.
If you are struggling with sun-damaged skin and would like to learn more about your treatment options, please call The Advanced Dermatology and Laser Institute of Seattle at 206-402-4797 to schedule a consultation today.
Next Page »

LaseMD Ultra is a powerful, highly customizable laser resurfacing treatment. Dr. Steven Greene is proud to offer his guests this option. Along with all of our other cosmetic dermatology services, LaseMD Ultra may be the right way to rejuvenate your skin and improve your facial appearance.
LaseMD Ultra is a great way to address:
Texture 
Hyperpigmentation
Discoloration
Age spots
Enlarged pores
Fine line
Acne scars
Melasma 
This non-ablative laser offers effective results with little downtime. You should expect your face to be red for at least one to three days. After the treatment, your skin will have a rough, sandpapery feeling. This is the exfoliation process. It will resolve within a week or so. Afterward, your skin will be smooth and renewed.
The treatment itself is non-invasive and tolerated well by most people. You'll relax and recline in the treatment chair while Dr. Greene gently moves the laser across your face in a specific pattern to reach all the areas. You may feel warmth, or a prickling or tingling sensation as the laser works. The entire session should take 20 minutes or less. You may want to schedule several sessions to get optimal results. Although the face is the most common treatment area, LaseMD Ultra can also be used on the chest, arms, hands, neck, and shoulders.
Most people feel fine getting right back to their routine. Your face will be red, so you may want to avoid social events for a day or two, but it is up to you and your personal comfort level. As the redness goes away, you should begin to see the improvement in your skin, which can last for a year or longer before you may decide to opt for a touch up or another type of skin rejuvenation. 
Schedule Your Laser Treatment
If you live in Seattle or the surrounding areas and are searching for an experienced, board-certified dermatologist to provide LaseMD Ultra laser resurfacing, please call Advanced Dermatology and Laser Institute of Seattle at 206-402-4797 to arrange a consultation with Dr. Steven Greene.
Next Page »
In the mid-1980's, Dr. Jean Carruthers, an Oculoplastic Surgeon from Vancouver, BC first observed the cosmetic benefits of lessening the appearance of wrinkles around the eyes in her study patients who she was treating for eyelid twitching (blepharospasm) with Botulinum Toxin (later named Botox). After she and her husband, Dr. Alastair Carruthers, a prominent Cosmetic Dermatologist, realized that she had discovered a new "disruptive" therapy, they performed the groundbreaking evidence-based research that paved the way for its cosmetic place in history for temporary reduction in the appearance of fine lines and wrinkles.

More »
Next Page »
Your skin can really take a beating. Over the course of your lifetime, your skin has to deal with several issues, leaving it worse for wear. But fractional laser skin resurfacing with the Cynosure Icon 1540® can give your skin its former glow in as little as one treatment. This fractional, non-ablative laser covers a wide range of skin problems, including sun damage, scarring, and the signs of aging.
Next Page »

BOTOX® Cosmetic lasts 3-4 months before the effect fades. You can restore the results with a re-injection appointment.
BOTOX® Cosmetic is one brand of botulinum toxin type A, an injectable protein that smooths wrinkles and creases on your face. This injectable has gained a lot of popularity in recent years. In fact, botulinum toxin type A injections were up 3 percent in 2018 compared to 2017 (the most recent years with statistics available). Millions of people receive these injectable treatments every year in the U.S., and with good reason: the benefits of BOTOX® injections are many –

More »
Next Page »
Spider or varicose veins can appear unsightly and make you want to hide body parts that have them. They are more than just an embarrassing blemish, though. They can also be a severe health hazard. Veins can put you at risk of developing blood clots or open sores.
At Advanced Dermatology and Laser Institute of Seattle, our board-certified dermatologist Dr. Steven Greene has more than 25 years of experience helping rid his patients of unpleasant, potentially dangerous veins. We offer numerous treatments to help improve the appearance of mild to severe veins. Read on to learn about the causes of spider and varicose veins and how we can help you deal with them. More »
Next Page »

Double chins can be unsightly and embarrassing. Fat under the chin can be resistant to diet and exercise, and people who are otherwise fit and toned can still be stuck with stubborn chin fat that's nearly impossible to get rid of.
If you struggle with a double chin, Kybella® could help you get rid of that unfortunate feature and improve your facial contour without the need for surgery or downtime. At Advanced Dermatology and Laser Institute of Seattle, board-certified dermatologist Dr. Steven Greene and his team have decades of experience helping patients look and feel their best. We can help you decide if Kybella is the best option for you.
More »
Next Page »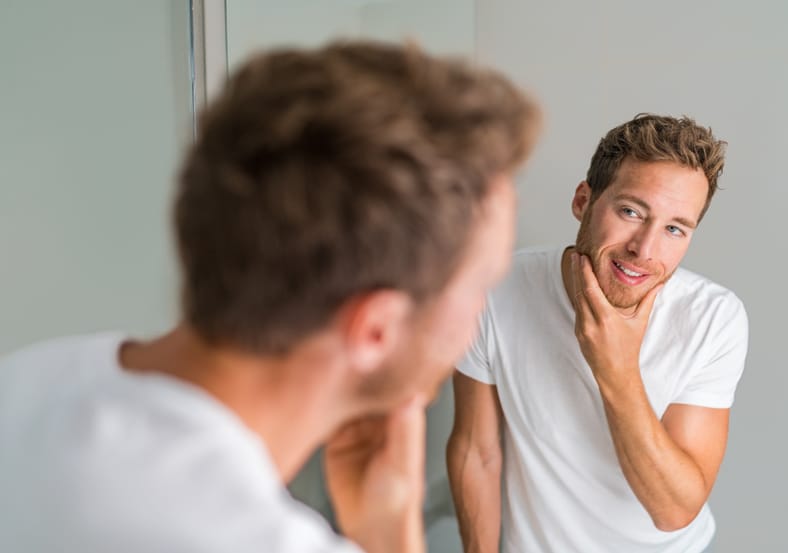 For men, a full head of hair is a sign of youth and vitality. Most men experience some form of hair thinning by the time they enter middle age. A quarter sees hair loss before their 21st birthday. No matter the stage of life where it begins, hair loss can be frustrating and embarrassing.
Advanced Dermatology and Laser Institute of Seattle is proud to offer the iRestore™ Hair Growth System. This non-invasive, take-home laser hair growth system allows men to achieve long-term, sustainable hair growth in the comfort and privacy of their own house. Our board-certified dermatologist Dr. Steven Greene and his team are confident that iRestore can help you recover a full head of hair — and the confidence that comes with it.
We serve Seattle and surrounding areas of Washington. Call (206) 402-4797 today to schedule a consultation.
What is iRestore?
iRestore is an FDA-approved, in-home laser hair growth system. It uses a network of 51 medical-grade lasers and LEDs to promote the growth of thicker, fuller hair. The combination of lasers and LEDs allows iRestore to target different levels of hair and scalp to achieve the most possible growth.
Lasers focus light on a specific point. LEDs emit light that's spread over a wider area. These sources are positioned throughout the iRestore device to allow every inch of your scalp and hair follicles all over your head to receive growth-promoting light energy.
Who is an iRestore Candidate?
Anyone who is experiencing thinning hair can use iRestore. It will not work for people who are completely bald, because your hair follicles must still be alive to receive the laser and LED light energy.
During your consultation, Dr. Greene and his team will assess your hair loss to help you determine if you're at a stage where iRestore can work.
What is the iRestore Process?
All you have to do is secure the iRestore device on your head and press the start button. The device contains a safety sensor, so it won't turn on until it's properly positioned. Once it's on, iRestore will deliver light energy to your hair and scalp for 25 minutes, then turn off automatically.
When you first start iRestore, you may notice some shedding and hair falling out. This is a normal part of the process of your old, thinner, weaker hairs being replaced by newer, thicker, stronger hair.
You should take a day off between sessions, so you'll end up using it 3-4 days per week. iRestore is completely hands-free, so you can use it during many parts of your daily routine — watching TV, eating dinner, reading, working from home, or more.
How Long Until I See iRestore Results?
Here is a general timeline of what you can expect when you start iRestore:
1-2 months: Weak, thin, old hairs shed and fall out.
3-4 months: Hair loss slows down and stops. New hair begins to grow.
5-6 months: Hair shedding should stop. Your new, fuller, thicker hair should start growing at an accelerated rate.
6-plus months: This is the period of maximum growth. With consistent use, you should see results.
Schedule Your Seattle iRestore Consultation Today
Dr. Greene and his team at Advanced Dermatology and Laser Institute of Seattle have extensive hair-restoration experience. They're proud to offer iRestore to give their patients another method of recovering their self-confidence and body image.
We serve Seattle and surrounding areas of Washington. Call (206) 402-4797 today to schedule a consultation.
Next Page »

Laser Genesis is a gentle, effective laser treatment that can help with a variety of issues, including both wrinkles and acne. It's a great option to help you achieve beautiful, glowing skin no matter your age or skin color. Some lasers aren't suitable for darker toned skin, but Laser Genesis is non-ablative and appropriate for all skin tones.
If you're interested in a Laser Genesis treatment, don't hesitate to contact Advanced Dermatology and Laser Institute of Seattle today by calling 206-402-4797. We'll be happy to set you up with a skin care consultation to see if Laser Genesis is a good option for your concerns. More »
Next Page »
It's that amazing time of year here in the Pacific Northwest—the clouds and rain are finally starting to give way to clear skies and sunshine! But before you head outside to enjoy all of the gorgeous mountains and water Western Washington has to offer this summer, give your face a boost by refreshing drab and listless winter skin with a HydraFacial MD®.
More »
Next Page »
Find Posts By Date: