Blog Archives
Dark spots and skin discoloration can happen to people of any skin tone. In fact, they're one of the most frequently cited reasons why people with skin of color choose to see a dermatologist. In people with skin of color, they can be triggered by several causes. The ideal solution often depends on identifying the source of the issue.
At Advanced Dermatology and Laser Institute of Seattle, our board-certified clinical dermatologist Dr. Steven Greene has more than 25 years of experience helping resolve his patients' medical and aesthetic skin issues. He has worked extensively with patients with skin of color. If you have medium-to-dark-colored skin, he is attuned to your unique needs and will create a treatment plan to help give you the results you want.
This blog breaks down some of the causes of discoloration in skin of color, what you can do about discoloration, and how Dr. Greene can help.
What Causes Dark Spots in Skin of Color?
People with medium-to-dark-colored skin often get dark spots and skin discoloration when something happens that makes their skin create more melanin, the substance that gives skin its color. In people who have skin of color, numerous things can trigger that melanin production, such as:
Acne
Psoriasis
A wound healing
Medications
Irritating skin or hair care products
Hormonal changes
Dr. Greene can help identify the causes of the dark spots on your skin. Sometimes, if you recognize the source, such as by switching from an irritating hair care product to a gentler one, the discoloration may go away on its own in about 6 to 12 months.
However, if the discoloration has existed for a long time and is more rooted in your skin, it may not fade on its own for years. In these cases, the dark spots may need additional treatment.
At-Home Dark Spot Remedies for Skin of Color
The first thing you should do to treat your dark spots is always to wear sunscreen, even when it's cloudy, raining, or snowing outside. Every time you leave the house, apply sunscreen everywhere that isn't covered by clothing. This can help prevent further discoloration. Make sure you wear at least SPF 30 or higher.
If your dark spots don't go away on their own, you can try using skin-lightening products to return those spots to your natural skin tone. Many of these are available over the counter.
Take care not to buy skin-lighteners that contain steroids. These can cause pimples and rashes, which could lead to more discoloration. Dr. Greene can recommend a product that is safe and effective.
Treatments for Dark Spots in Skin of Color
At Advanced Dermatology and Laser Institute of Seattle, Dr. Greene offers numerous treatments that can help restore your skin to its natural pigmentation. If at-home dark spot treatments aren't enough, he can address your discoloration in a variety of ways.
Our dark spot treatments include:
Chemical peels: Our facial and chemical peel options include Vi Peel, Microneedling, dermaplaning, microdermabrasion, and more. These treatments can address your dark spots and restore healthier, more youthful-looking skin.
Laser therapy: We offer laser systems that can target dark spots and destroy the pigmentation that's causing your discoloration without affecting the surrounding skin.
HydraFacial: This treatment rejuvenates your skin cells to improve their elasticity, reduce the appearance of wrinkles, and lighten areas of darker pigmentation.
Contact Our Seattle Dermatologist Today
Dr. Greene has extensive experience working with patients with skin of color. When you come to him for your dark spots or discoloration, he will treat your skin with the care and precision you deserve.
Dr. Greene serves Seattle and nearby areas of Washington. Call (206) 402-4797 today to schedule a consultation.
Most patients who experience dry, itchy skin or another skin complaint expect to be able to go to the doctor and leave with a diagnosis. Unfortunately, patients of color often struggle to get an accurate diagnosis for even the most common of skin disorders.
The skin care of patients who are people of color is truly a subspecialty of dermatology. More training is needed for physicians to better recognize common and uncommon conditions that present to both the primary care clinic and dermatology clinic. More »

You don't suddenly start aging when you get your first wrinkle. Instead, aging is a process that begins long before its visible signs appear. This means that, if you wait until you're middle-aged to start anti-aging treatments, you're already decades behind. The best way to treat indications of aging is to prevent them.
This is where prejuvenation comes in. By beginning anti-aging treatments when the aging process actually starts, you can stay ahead of it and maintain a youthful, vigorous appearance as your peers wonder why you look so good.
At the Advanced Dermatology and Laser Institute of Seattle, Dr. Steven Greene is one of his field's most respected practitioners. Read on to learn about the aging process and the range of treatments Dr. Greene offers to keep you looking young. More »

There's a common myth that people with darker skin aren't susceptible to skin cancer, but that falsehood puts many people at risk. A study in the Journal of the American Academy of Dermatology found that 63 percent of black Americans reported never using sunscreen.
While it's true that black-and-brown-skinned people are at a lower risk for skin cancers associated with ultraviolet radiation, they're not invulnerable. In fact, certain forms of skin cancer are more common in that demographic. Skin cancers in Asian, black, and Latino people are also more likely to be diagnosed at a later stage, and consequently have a higher mortality rate. More »
Spider veins are small, wispy veins that have become visible as red or purple discoloration. They look similar to spindly spider legs, hence the name. They are quite visible on the body and are usually found in the legs. They don't bulge out from the skin like varicose veins, but many people want to lessen their appearance.
Risk factors for spider veins include obesity, high blood pressure, pregnancy, and family history. Spider veins do not typically cause serious health issues, but most people feel more confident after the spider veins are gone. More »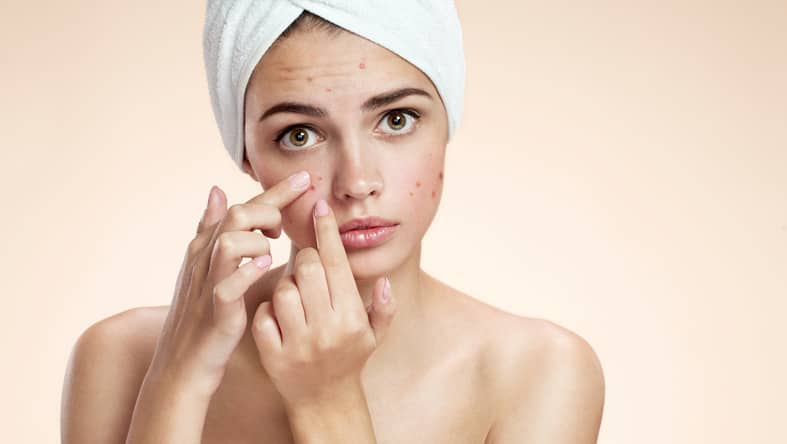 Over-the-counter face washes, gels and creams are often no match for acne. When you feel like you've tried every available acne treatment to no avail, it's probably time to visit a dermatologist.
At Advanced Dermatology and Laser Institute of Seattle, we believe that no one should feel uncomfortable in their skin. Our board-certified dermatologist, Dr. Steven Greene, can help you treat your acne at its source. Learn the signs that indicate you should visit our office for a complimentary skincare consultation.
More »
An effective at-home skincare routine should include a cleanser, toner and moisturizer, along with an SPF 30 or higher sunscreen. But no matter how good your daily skincare routine is, these products don't have the power to improve your skin's youthful appearance like an in-office facial at Advanced Dermatology and Laser Institute of Seattle can.
More »
April has been designated Rosacea Awareness Month by the National Rosacea Society (NRS)—the world's largest organization dedicated to improving the lives of those suffering from this prevalent disorder. This increasingly common yet under-treated skin ailment can lead to pain and discomfort, affect your relationships, and ruin your self-confidence. Here we'll take a closer look at rosacea and how best to treat it.
More »
Moles on your skin are usually no big deal. They often appear during childhood and adolescence and can become lighter or darker as the years go by. However, sometimes what look to be common, harmless spots can be a sign of something far more dangerous—melanoma. If you think you have a growth that's more than just a benign mark, it may be time for mole removal in Seattle with Dr. Greene.
More »
If you've been on the fence about this issue, think no further—yes, sunscreens indoors all year round is a must. At the Advanced Dermatology and Laser Institute of Seattle, we cannot stress enough, sunscreen is the key to preventing skin cancer and is our biggest ally when it comes to warding off signs of ageing. Both reasons ought to be enough to get you apply a layer of sunscreen at least once a day.
More »
Find Posts By Date: