Blog Archives

Hyperpigmentation is caused by the excess production of melanin in your skin. While sun damage is one of the most common reasons for hyperpigmentation, there are other factors that can cause increases in melanin production. At Advanced Dermatology and Laser Institute of Seattle, Dr. Steven Greene can evaluate your skin and determine the ideal treatment for your poikiloderma, melasma, or other pigment changes.
Hyperpigmentation usually occurs as spots on the skin that are darker than the surrounding tissue. The extra melanin in these spots can be caused by a variety of factors, including:
Sun Exposure: Over time, excessive exposure to UV rays can create sunspots or darken freckles. Around 80% of all skin aging and hyperpigmentation is caused by too much sunlight. To help prevent photoaging, make sure to wear sunscreen if you are outside for prolonged periods of time.
Inflammation: Any inflammation in the skin can cause hyperpigmentation. The most common culprits for post-inflammatory pigmentation changes are acne, scars, and stretch marks.
Hormonal Changes: Major hormonal changes can cause hyperpigmentation such as melasma to appear on multiple areas of the body. This condition mostly affects women who are pregnant or starting/stopping birth control. It also affects those undergoing hormone replacement therapy.
Medications: Some medications may lead to hyperpigmentation like patches or dark spots. This includes drugs for malaria, antibiotics, and antiarrhythmics.
At Advanced Dermatology and Laser Institute of Seattle, we have several treatments available for patients looking to correct their skin pigmentation. Some lesions may be successfully treated with laser therapy, chemical peels, or HydraFacial. While not all types of hyperpigmentation respond to treatment, Dr. Greene can help determine if there is a safe, effective solution for you.
Learn More About Our Hyperpigmentation Treatment Options Today
If you want to know what treatment options are available for hyperpigmentation, call Advanced Dermatology and Laser Institute of Seattle today at 206-402-4797 to set up an appointment. Board-certified dermatologist Dr. Steven Greene and his team can carefully evaluate your condition and create a custom treatment plan that addresses your concerns. We are proud to serve patients living in Seattle, Bellevue, Kirkland, Mercer Island, and other nearby Washington communities.
Next Page »
Your skin can really take a beating. Over the course of your lifetime, your skin has to deal with several issues, leaving it worse for wear. But fractional laser skin resurfacing with the Cynosure Icon 1540® can give your skin its former glow in as little as one treatment. This fractional, non-ablative laser covers a wide range of skin problems, including sun damage, scarring, and the signs of aging.
More »
Next Page »

Acne is a common condition that typically affects areas of the face, back, neck, and shoulders. Despite being commonly associated with adolescence, acne outbreaks can happen to women and men of any age. Due to hormonal changes that occur during pregnancy, while starting birth control pills, or just before a menstrual cycle, women are particularly prone to acne.
More »
Next Page »

Surgical mole removal is an effective medical dermatological procedure that can simultaneously improve your appearance and address suspicions of skin cancer.
If you're bothered by the appearance of a new mole on your skin, call Advanced Dermatology and Laser Institute of Seattle today to schedule a full skin exam with board-certified dermatologist Dr. Steven Greene. Dr. Greene has more than twenty-five years of proven experience diagnosing and treating every type of skin cancer.
More »
Next Page »
Beautiful, glowing skin takes work to achieve. Not only must you use the right types of skin care products, but you need to apply them in the right order. We've created the following list to help ensure you're including all of the right products in your morning skin care routine. More »
Next Page »

The summer is a beautiful season in Seattle. Going out for a socially distanced activity in the sunshine is a breath of fresh air right now. As you embrace the rays, we urge you to remember to practice safe fun in the sun: UV damage and sunburns not only increase your risk for skin cancer, but also cause wrinkles, sagging skin and brown spots.
More »
Next Page »

The latest guidance from the Centers for Disease Control and Prevention asks the American public to wear facial coverings, particularly in crowded situations in which social distancing is difficult or impossible, to prevent spreading COVID-19. But what if your cloth face mask leads to the dreaded "maskne" – acne caused by the friction, sweat, heat and irritation that sometimes accompanies mask wearing? Nobody wants a fresh crop of pimples on their jaw, chin and cheeks. Here are a few tips for preventing breakouts:
More »
Next Page »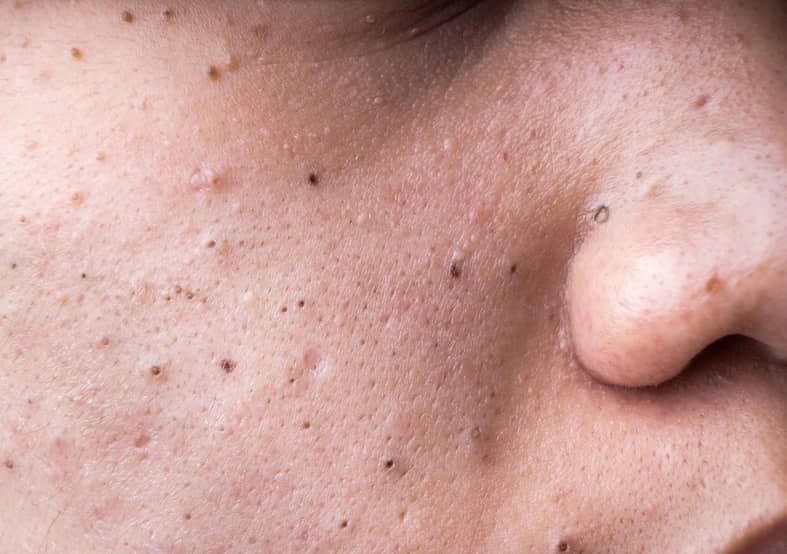 Blackheads are hair follicles clogged by dead skin cells, dirt, bacteria and grime. Some people get blackheads and acne much worse than the rest of us. Popping them on your own is generally not a good idea because you could make the situation worse. Consult our experienced dermatologist Dr. Steven Greene to learn your treatment options. Dr. Greene has specialized extraction methods to remove the blackhead without damaging surrounding skin. More »
Next Page »

April is Rosacea Awareness Month. Roughly 16 million Americans live with this condition. It can be particularly embarrassing because it's very conspicuous. There is no cure, but physicians like Dr. Steven Greene can help you control the signs and symptoms.
See our Promotions for special Rosacea Awareness Month pricing! Get $500 off one of Dr. Greene's rosacea treatments (expires April 30, 2020). More »
Next Page »
Causes of Stress
Loss of employment and loss of income.
Working from home and trying to balance productivity with home life.
Responsibilities and distractions including home schooling, child care.
Loss of social and physical connections created by social and physical distancing.
Increased conflicts and disruptions in normal relationships. Fitness programs interrupted, but some alternatives are online now.
More »
Next Page »
Find Posts By Date: