Psoriasis is technically an autoimmune disease, and mostly thought to be caused by a combination of genetics and environmental factors. Autoimmune diseases occur when your body's immune system overreacts and attacks healthy cells. When it comes to psoriasis, the result is an overproduction of skin cells that causes patchy, scaly skin.
Psoriasis is not contagious. You can't catch it from somebody else. 
Oftentimes a triggering event sets off the first outbreak of psoriasis or sets off flare-ups throughout your life. Triggers may include:
Stress
Infections
Cold, dry weather
Heavy drinking
Smoking
Exposure to secondhand smoke
Injuries
Certain medications
You may also be at an increased risk for psoriasis if other people in your family have this skin condition. Severe stress is another risk factor, since stress taxes your immune system.
So What Can You Do About Psoriasis?
There is no single cause of psoriasis that you can avoid or eliminate from your life, but, if you have this skin condition, there are treatments that will help to alleviate the symptoms and the severity of the outbreaks.
First, you can work to identify and eliminate the triggers that cause psoriasis. These triggers tend to be different for everyone. You may have some idea of what seems to set off a flare up, or you may want to keep a journal for several months to record triggers. Something like an increase in stress, alcoholic beverages, smoking, or certain medications may be associated with worsened symptoms.
Next, talk to board-certified dermatologist Dr. Steven Greene about treatment options. After examining your skin and learning about your health and psoriasis history, Dr. Greene will be able to determine whether a topical or oral medication may be the right way to help manage psoriasis symptoms. There's still no cure for this skin condition, but there are ways to reduce its impact on your daily life and increase your comfort.
Get Answers From An Experienced Dermatologist
If you struggle with psoriasis and want to know what your options are for managing it, please call Advanced Dermatology and Laser Institute in Seattle at 206-402-4797. We look forward to answering your questions and arranging a consultation for you with Dr. Greene.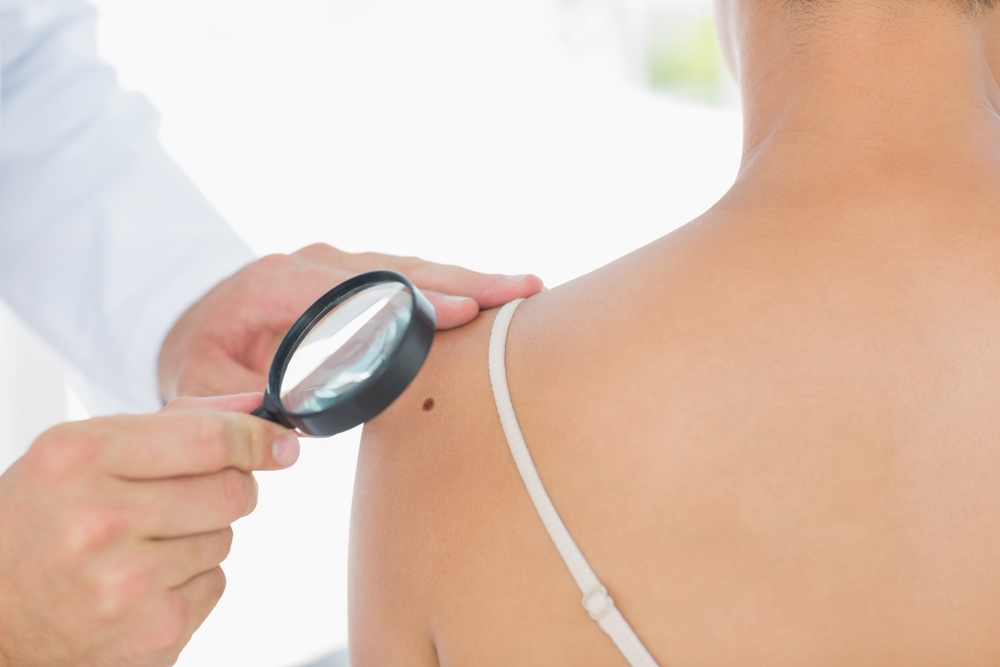 Skin cancer is the most commonly diagnosed type of cancer in America, and it's also one of the most treatable if and when it is caught in early stages. If you haven't had an annual skin check, we encourage you to contact Advanced Dermatology and Laser Institute to arrange your next appointment!
It's easy to neglect these skin checks, especially if you haven't noticed anything that is obviously out of the norm. Oftentimes it's difficult to tell if a mole or other mark on the skin is cause for concern, and so it is easy to shuffle the check-up to the bottom of your list of priorities. 
Sometimes we get little reminders of just how important it is to prioritize our health:
One of the most recent reminders came from television host and political commentator Rachel Maddow. Maddow recently revealed a skin cancer diagnosis, which she luckily caught early and received surgery to remove the cancer with no signs of spread. She had a mole on her neck which she knew was there, but hadn't gotten examined.
Maddow and her partner attended a minor league baseball game. After some time sitting next to each other, her partner turned to her, touched the mole on her neck, and told Maddow that the mole had changed. At first, Maddow brushed off the concern and felt like the mole was no big deal. Later, she asked her longtime hairdresser about the mole, who also reported that the mole had changed. At this point, Maddow decided to get the mole looked at. Sure enough, the mole was diagnosed as skin cancer and Maddow underwent treatment with a few days of downtime afterward.
Annual skin exams are part of good and efficient health maintenance. Sometimes skin cancers are hiding "in plain sight" and only need an experienced eye of a dermatologist to quickly make a correct diagnosis. In the video, Rachel Maddow gives a personal testimony of her recently diagnosed skin cancer and how easy it was to get it properly screened and treated. You will enjoy her call to action on this important preventative skin care need.
Skin Check: ABCDE
You should schedule a check-up if you are concerned about any moles or other marks on your skin. It's a good idea to have an annual full body skin check. In the meantime, when you perform a self-skin check at home, keep ABCDE in mind:
Asymmetry. One side of the mole or spot does not look the same as the other half.
Border. Instead of a smooth, circular mole, potential melanoma may have a scalloped, jagged, or otherwise irregular border.
Color. Instead of being one color, melanoma may be multiple colors, including reds and blues, or it may have various shades.
Diameter. Melanoma is often at least as big as a pencil eraser when diagnosed, but it can be smaller.
Evolving. Melanoma often changes over time in relation to size, shape, or color.
Please book an appointment with Dr. Greene if you notice any of the ABCDEs or have other concerns.
To learn more, or to arrange an appointment with experienced Seattle dermatologist Dr. Steven Greene, please call Advanced Dermatology and Laser Institute at 206-402-4797.
You're never too old for fillers! These non-surgical injectable treatments provide a wide array of rejuvenation and enhancement benefits for people of diverse ages. Whether you want to plump your lips, smooth out wrinkles, rejuvenate aging hands, or have some other goal – dermal fillers could very well be the right option!
There is no upper age limit at which dermal fillers are ill-advised. Instead, you should work with an experienced injector who understands facial anatomy, the aging face, and what fillers can and cannot do. Our practice features our board-certified dermatologist Dr. Steven Greene. Once we examine your face and understand your goals, we will make customized recommendations for treatment.
Dermal fillers can in fact be well-suited to people in their 50s, 60s, and beyond. Fillers:
Augment and define thinning lips
Fill and smooth deep wrinkles
Soften the appearance of dark circles under the eyes
Fill in the lost volume that creates a sunken tear trough and under-eye hollows
Rejuvenate aging hands that have lost volume
Age causes a natural depletion of the volume beneath our skin. The natural loss of facial fat changes your facial shape and the smoothness of your skin. Your skin will get thinner as well. The result of all of this is that your face develops wrinkles and creases, the lips thin out and droop, the cheeks descend, and hollows and shadows may form across your face.
Dermal fillers like Juvederm and Restylane are really good at restoring lost volume and defining contours. Made from hyaluronic acid, poly-L-lactic acid, calcium hydroxylapatite, or another substance, dermal fillers provide scaffolding to keep your skin firm, youthful, and smooth. Depending on the type of filler, the results last between several months to a couple of years. For many of the dermal fillers at our practice, the results are immediate! Plus there's little to no downtime, making it possible to get back to your normal activities right away.
Dermal Fillers for a Diverse Age Range
If you're in your 50s, 60s, or older, and want to find out if dermal fillers are the right way to rejuvenate your skin, please call Advanced Dermatology and Laser Institute of Seattle at 206-402-4797.

Since the main trigger for acne is hormonal fluctuations, a person of adolescent age may find that their acne goes away as they grow into adulthood. Yet, as we all know, acne continues to be an issue for many adults who have long since left puberty in the rearview mirror. For these adults, acne may not go away completely on its own. You may experience breakouts cyclically, if not all the time.
Fortunately, there are a number of treatment options available to people dealing with acne. Dr. Steven Greene will help you find one that works for you. Many people prefer not to take medications like Accutane to address acne, and many of our patients have experienced effective breakout reduction with other treatments offered by Dr. Greene:
Chemical peels. Blocked pores allow bacteria to flourish and cause breakouts. A chemical peel strips away the oil, dead skin cells, and other debris that is clogging pores. The pores will be unplugged and new skin cells will grow.
Medical facials and HydraFacial. Facials work in various ways depending on the type of facial. We offer medical acne facials that unclog pores, reduce excess oil production, and reduce skin bacteria. We also offer the HydraFacial, which simultaneously cleans, extracts, exfoliates, and hydrates skin with proprietary vortex technology.
Intense pulsed light. Also known as a photofacial, IPL treatment reduces acne-causing bacteria with light.
Laser treatment. The main way laser treatments can treat acne is by shrinking overactive oil glands that block pores with sebum buildup.
You may see a significant difference in breakouts with these treatments. They are great accompaniments to your at-home routine, which should include gently cleansing your skin with non-abrasive, alcohol-free products.
Begin the Journey to Clearer Skin
If you are ready to stop struggling with acne and pursue options that work for your skin, please call Advanced Dermatology and Laser Institute of Seattle at 206-402-4797. Dr. Steven Greene is a board-certified dermatologist who is personally committed to helping each of his patients achieve beautiful, healthy skin. After meeting with you in a consultation, Dr. Greene will recommend those treatments that will be a good match for your goals.

If you have psoriasis, you aren't alone. This chronic skin condition affects about 3 percent of the U.S. adult population. The symptoms can be uncomfortable:
Skin rash that goes through cycles of flaring up and remission
Skin scales and patches (which are known as plaques)
Skin peeling and flakiness
Joint pain
Self-consciousness and depression
The most common symptom – and the symptom that tends to bother the psoriasis sufferer the most – is red, itchy, scaly patches of skin. You may get these rashes on the trunk of your body, your knees, elbows, scalp, and elsewhere.
There is no known cure that puts a stop to psoriasis once and for all. If you have psoriasis, you probably experience flare ups that last for weeks or months, followed by periods of remission. During remission, it may seem as though the psoriasis is gone, but it's actually that the symptoms and rash have temporarily subsided.
Just because there isn't a cure, that doesn't mean you shouldn't seek treatment. Dr. Steven Greene will work with you to find a treatment option that prevents skin plaques from forming, thereby preventing the rash and uncomfortable itching. Some of those options may include:
Oral medications
Topical medicated creams
Lifestyle changes and avoidance of triggers
Having cared for many people with psoriasis over the years, Dr. Greene knows just how uncomfortable this skin condition is. Not only does it cause physical symptoms, but it also tends to make a person feel self-conscious about their appearance. If you have psoriasis, you may spend a lot of time figuring out how to cover up the rashes with clothing and hide the area from other people. All of this can be a big burden on your mental health. Dr. Greene is personally committed to helping people find dermatologic interventions that work so they can lead fuller, happier, healthier lives.
Experienced Dermatologist for Psoriasis Symptoms
In Seattle, WA, Dr. Steven Greene provides a wide variety of dermatologic services, including psoriasis symptoms. If you are looking for answers when it comes to reducing uncomfortable rashes caused by this skin condition, please call Advanced Dermatology and Laser Institute of Seattle at 206-402-4797.

Life with rosacea can be difficult. If you struggle with this skin issue, then you know how flare-ups can lead to self-consciousness, inconvenience, and discomfort. Perhaps you've been living with rosacea for a while and have identified most of your triggers. If you've been able to avoid many of those triggers, you may have noticed some improvement in flare-ups but not a complete reduction of redness. Effective, safe, gentle treatments offered by Dr. Steven Greene are a good way to further the results you have achieved by avoiding triggers.
Intense pulsed light therapy, also called IPL, works by sending pulses of multi-wavelength light into the sub-layers of skin. Because it uses light, this treatment is also referred to as a photofacial. The light heats up the tissue for various beneficial results, including constricting blood vessels that are causing rosacea symptoms. The blood vessels are prevented from carrying out the overly sensitive vascular response that leads to redness. It may take a few treatment sessions to reach desired results.
Fractional laser skin resurfacing sends laser energy below the skin to vaporize the unnecessary, inflamed blood vessels causing facial redness. Laser resurfacing also improves the overall appearance of your skin and face. Like a photofacial, laser therapy typically requires multiple sessions to achieve great results, which can last for many months or years before retouching may be needed.
A Hydrafacial is a wonderful option if you are interested in a relaxing, spa-like treatment. This soothing facial removes impurities and feeds the skin with nourishing serums. Water molecules, hyaluronic acid, and antioxidants are infused directly into the tissue. Although this facial provides a wide array of benefits, for people with rosacea it has the added effect of calming redness and improving skin texture. Results are immediate and you can go right back to your day after the appointment.
Dr. Greene also recommends a customized skincare plan for your level of redness and inflammation. During your consult, he will examine your skin and discuss products that will reduce redness without triggering flare-ups.
If you are experiencing redness and rosacea and are ready to do something about it, please contact Advanced Dermatology and Laser Institute of Seattle at 206-402-4797. Dr. Steven Greene is a board-certified dermatologist who has helped numerous patients enjoy calmer, cooler, clearer skin with today's state-of-the-art facial treatments.

Summer is here, and while many are eager to get outside and enjoy the warm weather, it also means that your skin is also at more risk. Whether you have allergies or spend most of your time out in the sun, there are several ways your skin can become damaged if precautions aren't taken. Thankfully, there are a few simple steps you can take to ensure that your skin stays smooth and healthy all summer long. Here are some skin care tips to keep in mind to prevent sun damage.
Use Sunscreen and Wear a Hat
This is by far the most important tip on our list. If you are going out in the sun for more than 30 minutes, you need to wear sunscreen. This is even more important if you are going outside between 10am and 4pm, which is when the sun's UVA and UVB rays are the strongest. Clouds don't block much sunlight either, so it's critical that you wear both a sunscreen and a hat during the summer. Make sure to apply SPF 30 or higher for long-lasting protection.
Drink Plenty of Water
If you get a sunburn or are exposed to sunlight for more than 30 minutes, make sure you drink a lot of water. Sunburns can cause what is known as vasodilation, which dilates your skin's blood vessels and make the skin lose water. This can lead to dehydration, so be sure to drink water frequently when exposed to sunlight for extended periods of time.
Be Careful With Exfoliants
While it is important to exfoliate your skin year-round, try not to overdo it during the summer months. Too much exfoliation will leave your skin much more sensitive to sunlight, so try to use gentler scrubs on sunnier days.
Want to Reduce the Appearance of Sun Damage?
If you have any sunspots or other forms of hyperpigmentation due to sun damage, call Advanced Dermatology and Laser Institute of Seattle today at 206-402-4797 to schedule a consultation with Dr. Steven Greene. He can identify the best treatment for your condition, ranging from IPL to laser skin resurfacing. We are happy to serve patients living in Bellevue, Kirkland, Mercer Island, and other neighboring Washington communities.

When it comes to acne, there are several factors that can cause a flare-up. Generally, there are four things that can cause someone to develop acne: excess oil, clogged hair follicles, bacteria, and inflammation. This can happen on any part of the body, but is most common on areas that have a lot of sebaceous glands, including the face, chest, back, and shoulders. Here are some of the conditions that can trigger the development of acne.
Hormonal Changes
During puberty, pregnancy, or menopause, the production of androgens increases dramatically, causing the sebaceous glands to enlarge. As they expand, the sebaceous glands make more sebum, the natural oil of your skin. This excess oil can create blockages in your hair follicles, leading to the formation of acne. 
Diet
Some studies have shown that eating foods high in refined sugars or carbohydrates—such as candy, soda, or white breads—can worsen acne. Since these foods have a high glycemic index, they can increase your blood sugar, causing an increase in hormones. While the correlation between diet and acne needs more research, many people find that their skin health improves when eating foods with a low glycemic index. 
Pomades
This is a possible culprit for the development of acne in patients with skin of color. Since the oil in pomade blocks pores on the forehead and scalp, it often leads to blackheads or whiteheads. In rare cases, it may lead to a bacterial infection in the scalp called folliculitis. If using pomade, only apply it one inch behind your hairline.
Certain Medications
Any drug that affects the production of hormones can cause you to develop acne. This includes corticosteroids, antidepressants, anticonvulsants, B vitamins, and testosterone.
Need Help Controlling Your Acne? Dr. Steven Greene Can Help
Acne can be difficult to treat on your own, especially if there is an underlying cause. If you want to achieve clearer skin and explore the different treatment options available, call Advanced Dermatology and Laser Institute of Seattle at 206-402-4797 to schedule a consultation with Dr. Steven Greene. With over 40 years of experience, Dr. Greene can create a personalized treatment plan that meets your goals. We welcome patients living in Bellevue, Seattle, Kirkland, Mercer Island, and the surrounding areas of Washington.

Hyperpigmentation is caused by the excess production of melanin in your skin. While sun damage is one of the most common reasons for hyperpigmentation, there are other factors that can cause increases in melanin production. At Advanced Dermatology and Laser Institute of Seattle, Dr. Steven Greene can evaluate your skin and determine the ideal treatment for your poikiloderma, melasma, or other pigment changes.
Hyperpigmentation usually occurs as spots on the skin that are darker than the surrounding tissue. The extra melanin in these spots can be caused by a variety of factors, including:
Sun Exposure: Over time, excessive exposure to UV rays can create sunspots or darken freckles. Around 80% of all skin aging and hyperpigmentation is caused by too much sunlight. To help prevent photoaging, make sure to wear sunscreen if you are outside for prolonged periods of time.
Inflammation: Any inflammation in the skin can cause hyperpigmentation. The most common culprits for post-inflammatory pigmentation changes are acne, scars, and stretch marks.
Hormonal Changes: Major hormonal changes can cause hyperpigmentation such as melasma to appear on multiple areas of the body. This condition mostly affects women who are pregnant or starting/stopping birth control. It also affects those undergoing hormone replacement therapy.
Medications: Some medications may lead to hyperpigmentation like patches or dark spots. This includes drugs for malaria, antibiotics, and antiarrhythmics.
At Advanced Dermatology and Laser Institute of Seattle, we have several treatments available for patients looking to correct their skin pigmentation. Some lesions may be successfully treated with laser therapy, chemical peels, or HydraFacial. While not all types of hyperpigmentation respond to treatment, Dr. Greene can help determine if there is a safe, effective solution for you.
Learn More About Our Hyperpigmentation Treatment Options Today
If you want to know what treatment options are available for hyperpigmentation, call Advanced Dermatology and Laser Institute of Seattle today at 206-402-4797 to set up an appointment. Board-certified dermatologist Dr. Steven Greene and his team can carefully evaluate your condition and create a custom treatment plan that addresses your concerns. We are proud to serve patients living in Seattle, Bellevue, Kirkland, Mercer Island, and other nearby Washington communities.

If you want to remove unwanted hair from your face or body, laser hair removal is a great way to reduce the need to shave for the long-term. With a thorough treatment, you can reduce the frequency for shaving, plucking, and waxing. At Advanced Dermatology and Laser Institute of Seattle, we use advanced FDA-approved laser systems to give you exceptional results. While we cannot guarantee results will be permanent, we do know that our laser hair removal patients experience long-lasting hair reduction.
Laser hair removal is a cosmetic procedure that works by targeting and eliminating the cells that contribute to hair growth without damaging the surrounding skin. During the treatment, our staff uses a concentrated beam of light that is absorbed by the melanin of the hair. The energy from the light gets converted into heat and deactivates the hair follicles, which helps inhibit hair growth.
Best of all, the treatments only take a few minutes and work for a variety of skin colors and hair types. Laser hair removal is a fast, easy way to reduce unwanted hair on the:
In addition, laser hair removal treatments will leave your skin feeling softer than before and help prevent ingrown hairs. 
For those who want to remove hair from an area of their body with the best chances of long-lasting results, we recommend having more than one treatment. After a single treatment, hair can take weeks or even months to grow back. Every treatment following the first procedure extends the growing process further. While some hair may grow back, it is usually sparse or thin. Eventually, many people find that their hair almost never grows back.
The good news is that treatments last only between 15-30 minutes and you can immediately resume your regular activities after the procedure. The recovery period is minimal, so you can get back to your day with your skin looking smooth and beautiful.
Schedule a Laser Hair Removal Consultation Today
If you don't want to deal with unwanted facial or body hair, call Advanced Dermatology and Laser Institute of Seattle today at 206-402-4797 to schedule a consultation. Led by Dr. Steven Greene, our experienced team can help you decide if laser hair removal is right for you. We welcome patients living in Seattle and nearby Washington communities.