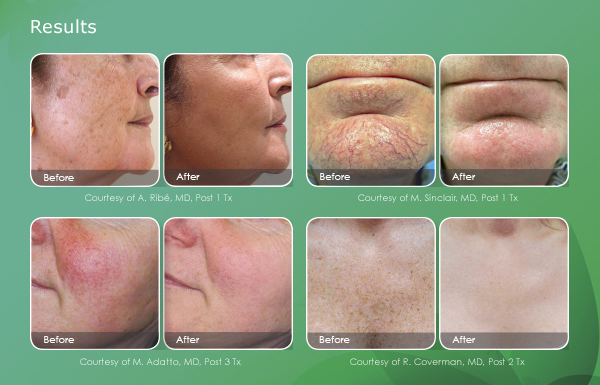 IPL/Photofacial Treatment
Intense Pulsed Light (IPL) or photo facial, is a skin laser light treatment that delivers high-intensity pulses that penetrate the skin and heat the sub-surface layers to reduce melanin, the dark pigment, hemoglobin, and the red blood cells in blood vessels. This results in healthier, smoother skin.
The number of IPL treatments you need will depend on the condition of your skin and your desired results. Generally, patients need a series of 3-6 treatments, 4-8 weeks apart.
NO direct sun exposure is recommended during your IPL treatments. The documented risks are a chance of burns and blisters, some Hyper and/or Hypo pigmentation and mild swelling. These risks can ALL be avoided if the proper precautions are followed prior to treatment. These precautions will be discussed during your consultation.
Many patients say the laser feels like a rubber band snapping against the skin. We can apply a topical numbing cream before the treatment to reduce discomfort.
There is practically no downtime after an IPL treatment. You can return to work or your normal daily activities the same day as your treatment.
The results of IPL are long lasting. During your consultation, our medical esthetician will discuss a proper skincare regimen. The better you take care of your skin, the longer your IPL results will last. Many patients come back after a few years for touch-up treatments to rejuvenate their skin.
How Does an IPL Photofacial Work?
An IPL photofacial uses a series of intense pulses of light in multiple wavelengths to create microscopic damage to the melanin in the skin. When the melanin absorbs this light, it begins to heat up, destroying the pigment producing cells. When the dark spots are expelled from the body, they rise to the surface of your skin, flaking off to reveal beautiful, even skin beneath. 

Who Is a Candidate for IPL Photofacials?
You may be a good candidate for an IPL photofacial if you have:
Sunspots

Acne Scars

Rosacea

Hyperpigmentation

Broken Capillaries

Large pores
In addition, IPL treatment tends to work better on fairer skin. If you have skin of color, Dr. Greene can help you find a more effective treatment.
How Is the IPL Photofacial Procedure Performed?
Before your procedure, your skin will be thoroughly cleansed. After cleaning the treatment area, Dr. Greene will apply a cool gel to your face to help the light travel more effectively and provide you with dark glasses to protect your eyes during the procedure. During the treatment, Dr. Greene will slide a handheld device over the skin, flashing it with a light every centimeter or so. The session lasts about 30-60 minutes, depending on the size of the treatment area.

What Is Recovery Like From a IPL Photofacial?
Although recovery time varies, patients can expect to have some redness around the face for 2-5 days after their IPL photofacial. In some cases, a patient may experience some bruising, but this usually fades over the course of 1-2 weeks.
Immediately following the treatment, the dark spots begin to darken, which indicates that the pigment has been successfully treated. In about 3-7 days, those dark spots will be pulled to the surface and flake away. For about 30 days, patients will need to wear sunscreen whenever they go outside and avoid skin care products with harsh chemicals. This will help prevent unnecessary irritation and damage.

Are There Any Risks to IPLs?

There are a few possible side effects from IPL treatments. However, they are relatively mild and usually resolve themselves within a few days after the procedure. This includes swelling, bruising, peeling, and scabbing. To minimize the risk of unwanted side effects, it's best to choose an experienced dermatologist like Dr. Greene and follow the pre- and post-operative instructions carefully.
When Can I Expect My Results of a Photofacial?
In most cases, patients see dramatic results after 3-5 treatments. However, this greatly varies between patients, with some seeing amazing results after just one or two procedures. Full face conditions may take more treatments to achieve desirable results.

What our patients are saying!
Click here to read more reviews.
Is an IPL Photofacial Painful?
IPL photofacial treatments cause little to no pain during the procedure. Many patients describe the sensation of the light pulses as a rubber band flicking against their skin. Some patients also describe the feeling of having a sunburn or standing close to a fire. The pain is relatively mild, but the light from the device may be uncomfortable to those with light sensitivity.
Schedule a Photofacial IPL Consultation
To schedule an appointment for the IPL Photofacial or if you wish to have a consultation before proceeding, please call us at (206) 402-4797 or fill out an online contact form and our office will be in touch with you. Thank you for choosing Advanced Dermatology and Laser Institute of Seattle!