Blog Archives
Psoriasis is technically an autoimmune disease, and mostly thought to be caused by a combination of genetics and environmental factors. Autoimmune diseases occur when your body's immune system overreacts and attacks healthy cells. When it comes to psoriasis, the result is an overproduction of skin cells that causes patchy, scaly skin.
Psoriasis is not contagious. You can't catch it from somebody else. 
Oftentimes a triggering event sets off the first outbreak of psoriasis or sets off flare-ups throughout your life. Triggers may include:
Stress
Infections
Cold, dry weather
Heavy drinking
Smoking
Exposure to secondhand smoke
Injuries
Certain medications
You may also be at an increased risk for psoriasis if other people in your family have this skin condition. Severe stress is another risk factor, since stress taxes your immune system.
So What Can You Do About Psoriasis?
There is no single cause of psoriasis that you can avoid or eliminate from your life, but, if you have this skin condition, there are treatments that will help to alleviate the symptoms and the severity of the outbreaks.
First, you can work to identify and eliminate the triggers that cause psoriasis. These triggers tend to be different for everyone. You may have some idea of what seems to set off a flare up, or you may want to keep a journal for several months to record triggers. Something like an increase in stress, alcoholic beverages, smoking, or certain medications may be associated with worsened symptoms.
Next, talk to board-certified dermatologist Dr. Steven Greene about treatment options. After examining your skin and learning about your health and psoriasis history, Dr. Greene will be able to determine whether a topical or oral medication may be the right way to help manage psoriasis symptoms. There's still no cure for this skin condition, but there are ways to reduce its impact on your daily life and increase your comfort.
Get Answers From An Experienced Dermatologist
If you struggle with psoriasis and want to know what your options are for managing it, please call Advanced Dermatology and Laser Institute in Seattle at 206-402-4797. We look forward to answering your questions and arranging a consultation for you with Dr. Greene.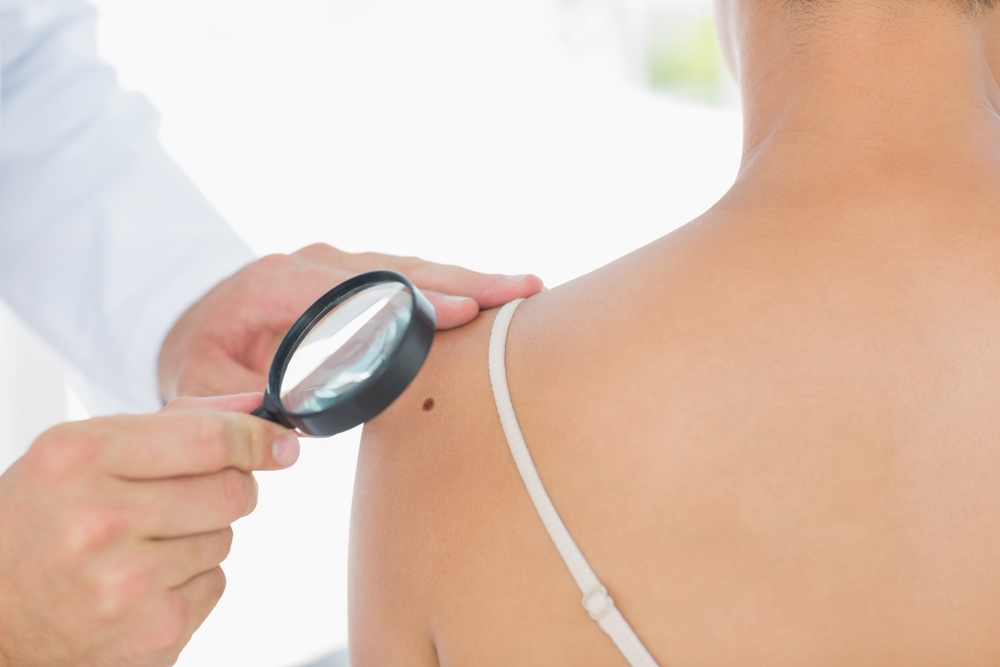 Skin cancer is the most commonly diagnosed type of cancer in America, and it's also one of the most treatable if and when it is caught in early stages. If you haven't had an annual skin check, we encourage you to contact Advanced Dermatology and Laser Institute to arrange your next appointment!
It's easy to neglect these skin checks, especially if you haven't noticed anything that is obviously out of the norm. Oftentimes it's difficult to tell if a mole or other mark on the skin is cause for concern, and so it is easy to shuffle the check-up to the bottom of your list of priorities. 
Sometimes we get little reminders of just how important it is to prioritize our health:
One of the most recent reminders came from television host and political commentator Rachel Maddow. Maddow recently revealed a skin cancer diagnosis, which she luckily caught early and received surgery to remove the cancer with no signs of spread. She had a mole on her neck which she knew was there, but hadn't gotten examined.
Maddow and her partner attended a minor league baseball game. After some time sitting next to each other, her partner turned to her, touched the mole on her neck, and told Maddow that the mole had changed. At first, Maddow brushed off the concern and felt like the mole was no big deal. Later, she asked her longtime hairdresser about the mole, who also reported that the mole had changed. At this point, Maddow decided to get the mole looked at. Sure enough, the mole was diagnosed as skin cancer and Maddow underwent treatment with a few days of downtime afterward.
Annual skin exams are part of good and efficient health maintenance. Sometimes skin cancers are hiding "in plain sight" and only need an experienced eye of a dermatologist to quickly make a correct diagnosis. In the video, Rachel Maddow gives a personal testimony of her recently diagnosed skin cancer and how easy it was to get it properly screened and treated. You will enjoy her call to action on this important preventative skin care need.
Skin Check: ABCDE
You should schedule a check-up if you are concerned about any moles or other marks on your skin. It's a good idea to have an annual full body skin check. In the meantime, when you perform a self-skin check at home, keep ABCDE in mind:
Asymmetry. One side of the mole or spot does not look the same as the other half.
Border. Instead of a smooth, circular mole, potential melanoma may have a scalloped, jagged, or otherwise irregular border.
Color. Instead of being one color, melanoma may be multiple colors, including reds and blues, or it may have various shades.
Diameter. Melanoma is often at least as big as a pencil eraser when diagnosed, but it can be smaller.
Evolving. Melanoma often changes over time in relation to size, shape, or color.
Please book an appointment with Dr. Greene if you notice any of the ABCDEs or have other concerns.
To learn more, or to arrange an appointment with experienced Seattle dermatologist Dr. Steven Greene, please call Advanced Dermatology and Laser Institute at 206-402-4797.
Find Posts By Date: