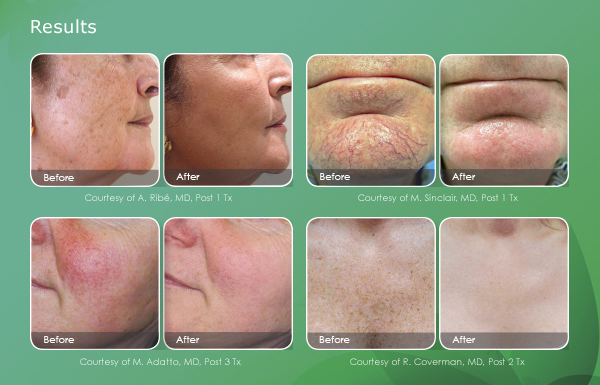 Photofacial/IPL
Intense Pulsed Light (IPL) or photo facial, is a skin laser light treatment that delivers high-intensity pulses that penetrate the skin and heat the sub-surface layers to reduce melanin, the dark pigment, hemoglobin, and the red blood cells in blood vessels. This results in healthier, smoother skin.
The number of IPL treatments you need will depend on the condition of your skin and your desired results. Generally, patients need a series of 3-6 treatments, 4-8 weeks apart.
NO direct sun exposure is recommended during your IPL treatments. The documented risks are a chance of burns and blisters, some Hyper and/or Hypo pigmentation and mild swelling. These risks can ALL be avoided if the proper precautions are followed prior to treatment. These precautions will be discussed during your consultation.
Many patients say the laser feels like a rubber band snapping against the skin. We can apply a topical numbing cream before the treatment to reduce discomfort.
There is practically no downtime after an IPL treatment. You can return to work or your normal daily activities the same day as your treatment.
The results of IPL are long lasting. During your consultation, our medical esthetician will discuss a proper skincare regimen. The better you take care of your skin, the longer your IPL results will last. Many patients come back after a few years for touch-up treatments to rejuvenate their skin.